Why You Should Use It
Great for all skin types

Being 100% clear, you'll be able to see exactly where you're driving that razor blade. The clear formula makes precision shaving a breeze

Soothing aloe vera and allantoin keeps your skin feeling cool

No artificial fragrances here, we use Eucalyptus Oil for our natural aroma

pH balanced formula suits the chemistry of your skin
Guys, do you find shaving a chore? Whether you're a daily shaver, or a 'once a week' guy, shaving should leave your skin feeling calm and invigorated. It shouldn't leave you looking like you've just woken from an all-night bender.
Too many guys see shaving as a necessary evil. But it doesn't have to be this way. With VITAMAN Shave Gel, our clear, natural solution will enable you to see where you're shaving and avoid problem areas like moles and scars. It's also perfect for navigating those designer sideburns you've chosen to rock.
VITAMAN Shave Gel is pH balanced and made of quality ingredients like White Tea Leaf, Aloe Vera Leaf juice, Allantoin, Vitamin E, and Eucalyptus Oil. Naturally sourced from the Australian Outback, this makes it ideal for guys with sensitive skin.
The clear gel formula can be used on its own or combined with VITAMAN Shave Oil for an added layer of protection.
VITAMAN Shave Gel is easy to use and designed for all skin types. Simply apply liberally to the shaving area before your shave. The result is a closer shave that will leave your skin feeling smooth, calm, and fresh.
If you're ready to once again enjoy shaving, you need the performance of VITAMAN Shave Gel.
150ml (5 oz)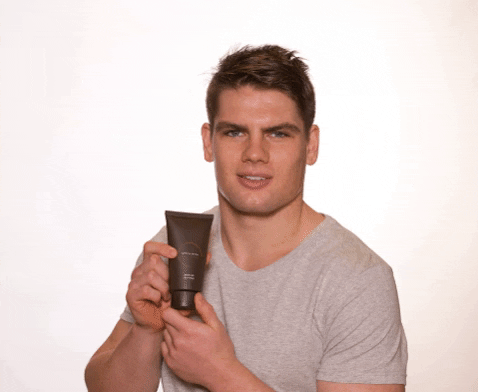 Usage
Apply a generous amount to the areas you want to shave leaving a visible layer as your barrier.
If you have a normal beard growth Shave Gel can be used alone to shave.

If your beard growth is heavy or coarse, we recommend you use our Shave Oil underneath the Shave Gel, for extra protection.

Now you're ready to shave. Prepare your razor blade with hot* water, then shave firstly with the direction of your beard growth. 

Rinse the blade again with hot* water, then shave across the direction of your hair growth. Shave around the lip and chin area last.
Important: *Hot steel cuts more efficiently than a cold steel blade.

Replace your blade before it becomes too blunt otherwise skin irritation or infection may occur.

Rinse excess Shave Gel off with cold water.

Follow with VITAMAN After Shave Balm and VITAMAN Face Moisturiser.
Ingredients
INCI LIST: camellia sinensis (white tea) leaf extract*+, aloe barbadensis (aloe vera) leaf juice* +, glycerin (coconut)+, phenoxyethanol, acrylates /C10-30 alkyl acrylate crosspolymer. allantoin  (comfrey)+, sodium hydroxide (sea salt water), tocopheryl acetate (Soy bean oil)+, eucalyptus globules (eucalyptus) oil*+
Certified Organic*
Plant derived+
Sustainably Sourced
Artificial Fragrance Free
Vegan Australia Certified
88% Certified Organic Ingredients99% Naturally-Derived Ingredients
What we've left out:
No synthetic fragrances
No animal derivatives
No artificial colours
No harsh detergents
No propylene glycols
No MEA/DEA/TEA
No petrolatum
N mineral Oils
No phthalates
No Triclosan
No sulphates
No parabens
No silicones
No EDTA