Why You Should Use It
Suitable for all skin types, especially suited for mature or fatigued skin
Perfect for high stress lifestyles and environmental damaged skin
Serum-infused bio-fibre cellulose masque deeply hydrates and moisturizes
Comfortably moulds to the contours of your face
Non-irritating, cooling and comfortable
Reduces signs of pigmentation caused by sun damage
Promotes skin cell regeneration
Highly concentrated antioxidants offer protection against free radicals (pollution, sun, wind, smoke)
Natural Cucumber and Red Wine aroma
Unique native Australian plant ingredients that heal, soothe and calm your skin
Paraben & Artificial Fragrance Free
Natural Aromas
Fragrance Free
Hypo Allergenic
Non comodegenic/wont clog pores
pH balanced - suits skin's chemistry
Anti- Irritation
Anti-bacterial
Not tested on animals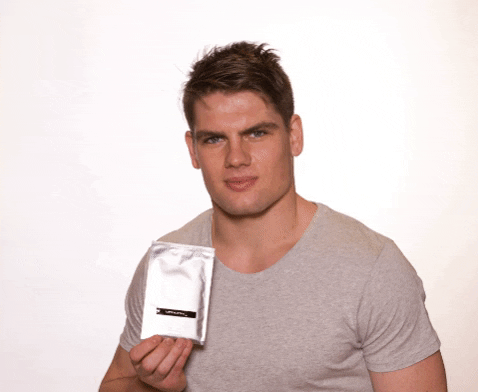 Is your face looking a tad ho-hum? Perhaps you've been burning the proverbial candle and missing out on your beauty sleep?
Guys, let's be real. There are certain things that get better with age. A bottle of merlot, your Dad's advice, even that silver fox Richard Gere. Unfortunately, your skin is not one of those things.
Before you go raising the white flag to father time, get your hands on VITAMAN's revolutionary Age Control Face Masque. A unique serum-infused bio-cellulose masque, perfectly formulated to hydrate and nourish the skin, VITAMAN's Age Control Face Masque is made for the man who wants to embrace aging (and slow it down), rather than fear it.
Each Age Control Face Masque is designed for a simple 'one use' application and works to effectively brighten tired looking skin, while reducing the visible signs of skin aging.
Featuring naturally sourced Australian ingredients like Marine Collagen, Red Wine Extract, and Aloe Vera Gel, VITAMAN's Age Control Face Masque is non-irritating, cooling, and intensely hydrating on your skin. It's also designed for maximum absorption and can be used in tandem with our award-winning range of facial cleansers and moisturisers.
If you're ready for smooth, fresh, and youthful looking skin, you need the performance of VITAMAN's Age Control Face Masque used by leading 5 star spas around the world.
3 x 27ml
Usage
Tear sachet and remove masque and unfold it.
Carefully peel off front and back plastic sheets (which are discarded) and then place cellulose masque gently over the face.
Mould to fit facial contours. Smooth any excess product over the neck. Leave masque on face for approximately 15 minutes. Then remove masque and discard.
Best used after skin has been cleansed and shaven. Excess product can be blended on neck area or back of hands. Single Use Only.

Ingredients
Aloe Vera Gel
Cucumber Extract
Marine Collagen
Mulberry Root Extract
Grape Extract
Powerful phenols (anti-oxidants) 
Skullcap Extract
Algae Extract
Plankton Extract
What we've left out:
No synthetic fragrances
No animal derivatives
No artificial colours
No harsh detergents
No propylene glycols
No MEA/DEA/TEA
No petrolatum
No mineral oils
No phthalates
No Triclosan
No sulphates
No parabens
No silicones
No EDTA